Memory of Léger-Félicité Sonthonax in Oyonnax (Ain)
" ... Men are born and remain free and equal in rights: here is, citizens, the Gospel of France; it is more than time that it is proclaimed in all the departments of the Republic…
All the Negroes and blood mixed now in slavery are declared free to enjoy all the rights attached to quality of French citizens… "
Proclamation of Léger-Félicité Sonthonax who abolished slavery on 29 August 1793 in Santo Domingo, at this time a French colony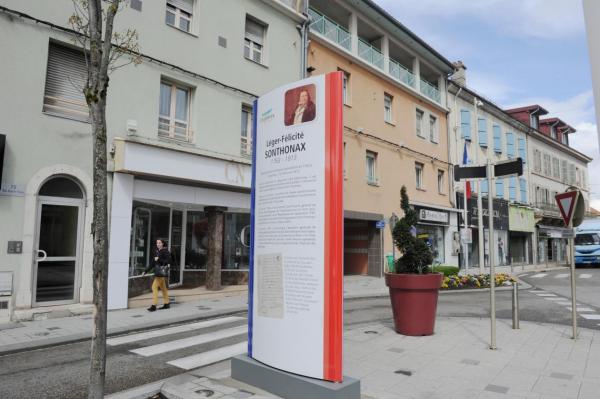 Stele in homage to Sonthonax in front of its birth house in Oyonnax


As an ardent abolitionist, sent by the Legislative Assembly in Santo Domingo in 1792, Léger-Félicité Sonthonax made history while taking, on 29 August 1793 and for the first time in history, the decision to abolish slavery in the North of the colony. The National Convention ratified this decision on 4 February 1794, and decided to generalize it to all the colonies. Close to Toussaint Louverture, staunch defender of the freedom of the blacks, Sonthonax paid dearly for his negrophilia with the arrival with the assumption of power of Bonaparte who exiled him.
Things to see in Oyonnax:

The stele in homage to Sonthonax in Oyonnax installed in front his birth house (having undergone transformations), 72 rue Anatole France.